The Solar Generator Is Ready For Your Home !
Generators are essential electrical appliances in the family and can play an important role during power outages. You can easily power some important electrical and electronic devices used in daily life.
The best generator for home power outages can power lights, television, and computers, enabling you to conduct your activities without disruptions conveniently.
Generators are also incredible for offering emergency power in homes, businesses, and hospitals.
They are an excellent investment and will enable you to stay comfortable and relaxed during a home power outage. 
TOP 5 U.S. STATES FOR POWER OUTAGES
There are several leading causes of power outages in the United States. Some of the common causes of power outages in the U.S. include blown transformers, wind, storms, ice, overloaded power stations, and downed power lines. Animal damage and vehicle accidents can also result in power outages.
There are different causes for power outages in the various states of the United States. Some of the states prone to power outages include Michigan, Ohio, Texas, New York, and California.
The relevant authorities in the U.S. have put various measures to ensure that they are prepared to handle and resolve any power outages in the states.  
If you live in these states, it is a wise choice to prepare the best generator for home power outages
DIFFERENT TYPES OF GENERATORS
1.
 

HOME STANDBY GENERATORS

A standby generator is a permanent unit generator that you can connect straight to your electrical panel.

A home standby generator offers a dependable energy solution in the unfortunate event of a power outage. The generator will allow you to power various appliances and other electronics in the house.

Home standby generators are efficient since they automatically turn on immediately when the power goes out, thus offering electricity for essential appliances, including water heaters, air conditioners, washing machines, and freezers.
2.
 

PORTABLE GENERATORS 
Portable generators offer electricity by operating a gas-powered engine which turns an on-board alternator to produce electrical power.
The unit's power outlets allow you to plug electric-powered tools, extension cords, appliances, and electronic devices into it. The number of outlet combinations in the generator will depend on the amount of power in the generator.
Some of the main components assembled into one metal frame single unit in a typical portal generator include the alternator, fuel tank, outlets, starter, and internal combustion engine.
3.
 

INVERTER GENERATORS

Inverter generators are an advanced version of a portable generator with an electronic upgrade.

An inverter generator adjusts its engine speed automatically to the required electrical demand, rather than operating at a constant speed no matter the load size. This considerably reduces the noise levels and fuel consumption.

Inverter generators require little maintenance compared to fuel-powered or conventional counterpart generators. The inverter generators are also portable, and they are designed with wheels and carrying handles to enhance easier mobility.
4.
 

PORTABLE POWER STATIONS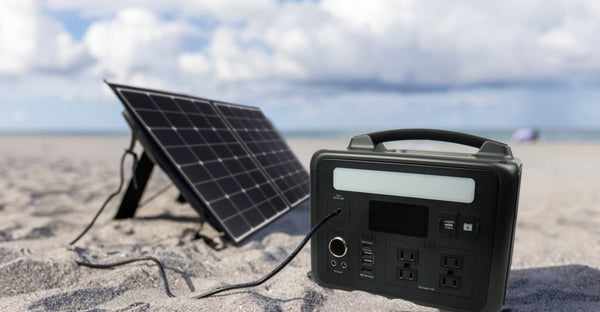 The power station is battery-powered equipment, charged by being inserted into an electrical outlet. It's a device that can store or reserve electrical power in an internal battery for later use.
Portable power stations provide electricity of up to 1000 W, although there are devices and exceptions on the market with much higher capacity. Portable power stations provide power through control panels that feature different outlets.
Power stations function by converting the battery's direct current into alternating current, making it suitable for powering electronic devices, including laptops and mobile phones.
---