The Need For An Active Portable Power Supply For Camping
A portable power source for camping is an electrical device that stores, transmits, or shares power to another electrical device or load.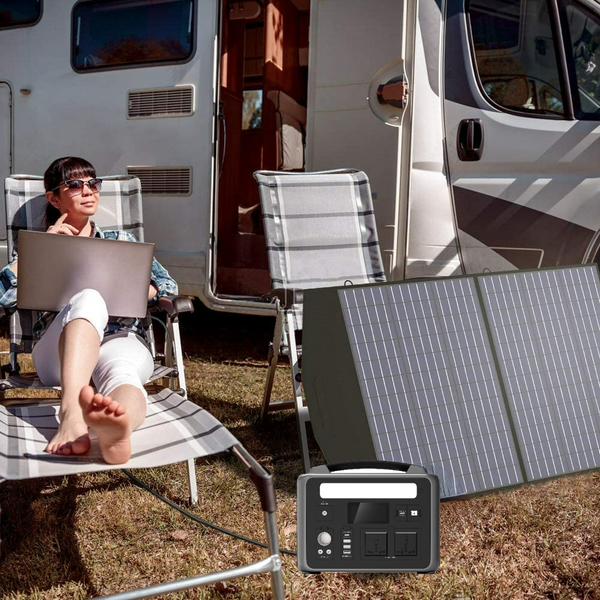 In an era when camping or road trips are the main activity, a powerful and stable power source is required.
How to power your electronic devices during camping

 
We will now explore different ways to power electronic devices during camping. There are many ways to power appliances, but we will study four different ways in detail.
1.

Main Power
This main power's work is to convert the supply of power by the alternating mains electricity supply into the power available at its output which is usually in a constant direct voltage. It converts main AC to low voltage regulated DC power.
2.
 

POWER BANKS

One of the major portable power supplies is the power bank. It is best known for charging small appliances like phones, lighting, and others. Getting a good power bank can't be overemphasized, as a good power bank can last for a long time. One of its features can be more than one charging outlet, and some can even be up to four. Some of the devices come with a let which also serves as lighting.
3.
 

4WD BATTERY

This kind of battery has different specifications amongst other batteries; it is designed to supply extreme power under difficult conditions for a wide range of 4×4 and light commercial applications. It is also designed to last for about 4 to 5 years if given proper care.
4.
 

BATTERY BOX OR POWER PACK:

They are specially designed to comprise a specific kind of battery in a special casing that stores and gives out electrical energy. They control the power overflow with a special circuit in them.
WHY CHOOSE

 

PORTABLE POWER SUPPLY FOR CAMPING 
Carrying a power supply, especially for camping, is one of the best ways to juice up the experience with a continuous supply of energy, especially phones, music boxes, and any device that aids entertainment. However, there are other important factors to consider before going on a camp journey without a power supply.
1. They are very easy to move. Going camping, there tend to be too many loads to carry, and it gets wearier the heavier it gets and adding a gas-powered generator to supply power makes traveling difficult. However, not carrying any power supply makes camping not lively, especially in a digital age, so what is there to do? It's better to carry portable power stations which need little space and at the same time supplies enough power.
2. Another advantage of carrying a power pack on a road trip is that they also supply small appliances. Small appliances here could be phones, torches, rechargeable fans, lightings, and many others. These small appliances are everyday appliances and are key in camp tents, and when they are powered and are working well, they tend to bring juice to any road event.
3. They also increase power storage; as the power is being taken directly, it is being stored up instead of wasting it. So, not only do power supplies give out energy, but they also conserve energy.
FACTORS TO CONSIDER BEFORE PICKING A

 

PORTABLE POWER SUPPLY FOR CAMPING
Not only is getting an external power supply important, but also getting a power supply capable of giving you the kind of satisfaction you deserve as a customer. We will be sharing a few tips in picking out the best power supply and the things to consider when getting one.
1. PORTABILITY
This is the most important to me because the name 'portable power supply is meant to be as portable as possible. For camping, you wouldn't want a piece of extra luggage, and in regards to that, a power supply should be small in size and light in weight to be completely effective. This power station is needed at strategic times, and it should always be presented at such times. Look out for size in buying a power supply, especially for camping.
2. CAPACITY
Also check out for the device's capacity: In getting a power supply, check out for the charging capacity and know to what extent the power supply can reach. Know how any ports are available and how many devices it can power simultaneously. The more, the better.
3. DURABILITY
The next major things to look out for are the durability and the device's features. For durability, check for how good the quality of the power supply is, check for important features like water and dust resistance, large battery capacity, and try to get one with a guarantee or one that is highly recommended. And for the features, look for the extra things like SOS alarms and extra ports others may not have.
4. OUTLETS
Also, please pay attention to the number of devices you will be carrying. We have a variety of rechargeable power supplies, but the weight will end up choosing the wrong one. Some have two ports, while others have nearly 10 sockets, and you should probably choose based on the number of equipment you want to camp out.
5.

USER AGE
Regarding the camping power supply, the age of the user should also be considered when choosing a power supply. When the people involved in the trip are still young, you may have to choose gadgets with high security. You may need to look for a portable power supply with a sturdy enclosure. 
---