How To Choose A Portable Power Station?
Firstly, recharging speed is very important for us when we're going camping.
Vanpowers Super Power Pro 2000 Portable Power Station.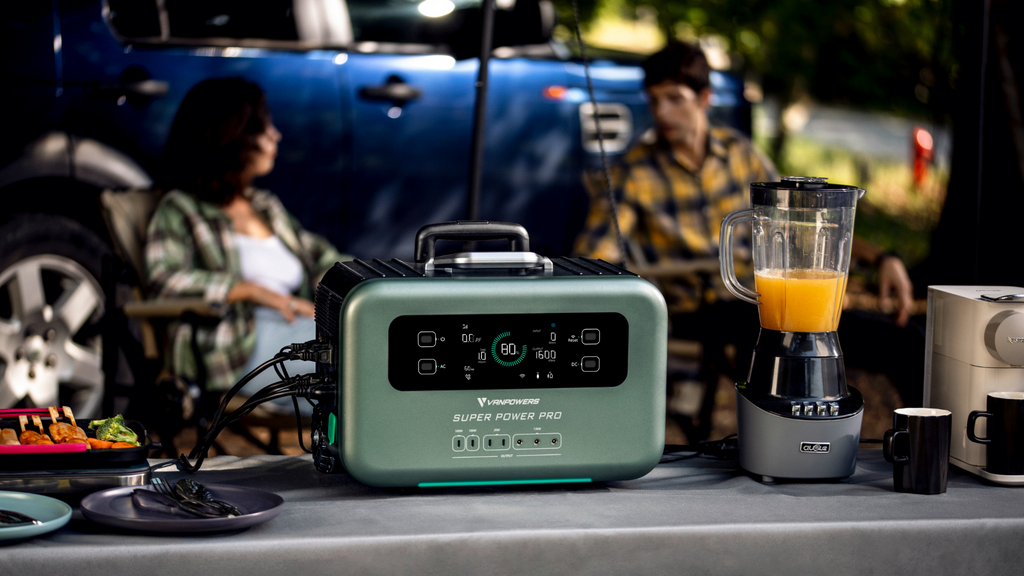 With the GridFlow technology you can charge Super Power Pro 2000W at up to 1,800W to 80% in 1 hour via AC or Solar, and a full charge in just two hours away. Choose Vanpowers Super Power Pro, avoid long waits, and start camping anytime. With GridFlow technology, it can be charged up to 80% in just one hour at up to 2,400W from an adequate AC, solar, or generator.
Secondly, choose your portable power station according to the power capacity.
Vanpowers super power pro is designed with massive capacity, 2096wh. It could cover the power you need when camping, 2000W output, and 4000W surge capability, it can power devices that typically need up to 3000W thanks to the Amp Up feature. So you can power your laptops, drones, fridges, projectors, microwave, CPAP, coffee maker, or other essentials around the house, even as a backup for your electric vehicle.

What's more, considering the outlet ports that you need.
There are 14 output ports to charge all your devices at once, the perfect companion to charge your devices and appliances during power outages: 6x AC outputs; 4x USB-C outputs; 3x DC outputs; 1x Car outputs.  

Next, portability is necessary.
Made for when you're on the go, Super Power Pro 2000W has a built-in ergonomic telescopic aluminum handle, industrial-grade wheels, and a low center of gravity design, and it's sturdy enough to stack another item on top.

Super Power Pro companion app even provides theft protection, remote status updates remote control, location services, and access to lots of advanced features. And Super Power Pro's 6.1" color LCD screen, and high brightness under solid light, you can see information such as Wifi, power usage, remaining charge, environmental conditions, and so much more.

It's not that difficult to choose a portable power station, van powers super power pro meets all your need when camping and helps a lot when lacking energy for home use with 2096wh power storage.
---